Experiment 13 - OSICE: Optimisation of the production process of metal structures using OSICE
Experiment description
This Application Experiment will provide MV Engineering with a cloud service for the optimisation of transportation pallets for train parts, not only from structural point of view, but also considering entire technological process, i.e. milling, welding, and assembly process.
In order to achieve this, OSICE will be employed, as well as HPC/Grid and Cloud based optimization service for solving large-scale optimization problems using parallel evolutionary algorithms.
This innovative solution will lead to costs savings related to:
material and energy consumption
reduction of time in engineering and production phases
Technical Impact
At the design stage of the products, right now MVE uses commercially available CAD software solutions, which already have modules for structural optimization. Nevertheless, there is a need for a product which can optimize techniques in production processes. MVE does not utilize optimization techniques in production processes due to: knowledge gap and technological gap.
In the new process, the two gaps above mentioned will be overcome on one hand, with development of API that will allow developers to integrate state-of-the-art optimization methods without any deeper knowledge regarding their internal complexity, including optimization algorithms, parallel computing, and HPC administration and on the other, by engagement of Cloud computing infrastructure.

Economic Impact
The size of the world rail market is EUR 159 billion (thereof EUR 53,7 billion in rolling stock) and it is foreseen to annually grow further at 2.6% until 2021. The highest growth rates have been recorded in the rolling stock - 5.8%. European RSI invests 2.7% of its annual turnover in R&D and represents 46% of the world RSI market. The annual turnover of MVE is EUR 26 million with the projected growth at the higher rate than the average growth in RSI. The comprehensive analyses of MVE production processes have shown that the optimization of all these parameters could reduce overall costs of the products up to 10%, which on the current annual turnover of EUR 26 million could make financial impact up to EUR 1.5 million annually.
As for Vodéna, their identified users are European SMEs with 50-250 employees, in high-tech manufacturing sector and high-tech knowledge-intensive services sector. Based on Eurostat, there are 9,200 such companies in Europe with a total of 950,000 employees. Vodéna is a producer of modeling and optimization software solutions, and its vision is to expand existing product portfolio and to become a provider of HPC-Cloud-based optimization solutions in the form of service. These objectives will be achieved by creating a new market and a new revenue stream, generating profit of 660,000 EUR by 2022. The plan is to enter the market in the 2020, and to achieve sales of 240 monthly subscriptions and generate profit of 124,000 EUR. Projection is that sales growth will be 50% annually in next two years, and additionally, the project will generate 5 new job positions.
Experiment Outcome
In addition to the significant savings that the solution developed in this experiment will bring to MVE, the end user, it will also produce other positive effects. MVE will introduce upgraded products such as wagon parts and increase the number of employees. The use of CloudiFacturing Solution will enable the production of custom-built products in line with Industry 4.0 principles, which will significantly increase the technological level of the company and enhance their positioning in the market.
From the ISV's perspective, this experiment has enabled a deeper link between VDN and MVE, and preliminary plans for future cooperation in the field of optimization have already been made. This collaboration involves developing solutions to optimize other products from the MVE product portfolio. This Application Experiment also provided a deeper insight into the possibilities of using CloudiFacturing Infrastructure to solve optimization problems that represent the core business of VDN. In addition, VDN will increase the number of high-quality jobs and better position itself in the market niche of the simulation-based optimisation solutions.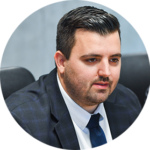 CloudiFacturing has shown us wide range of possibilities that can be based on solutions that were developed during this project. We were focused on reducing costs and time of production of one product, but results of the project can be applied in different companies and different industries.
Marko Milanovic, CEO of MV Engineering