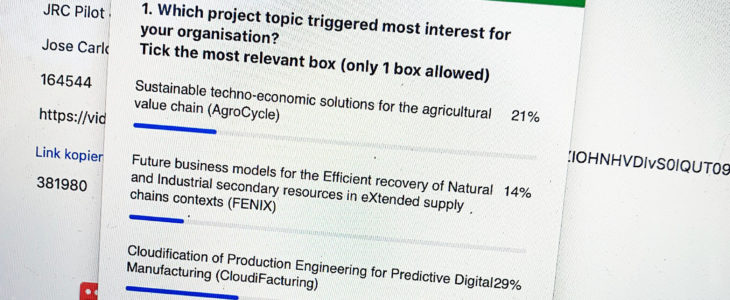 As part of the pilot 2 of the Working Group H2020 for RIS3, Centro and Norte region in Portugal, together with the Joint Research Centre, are testing new approaches for optimizing public-private and international cooperation in implementing their RIS3 priority on circular manufacturing (CM). In this course they were organising a match-making webinar bringing together a selected number of European actors dealing with this topic. CloudiFacturing Project were of great interest to the audience.
After an initial stakeholder event in 2019 in Porto, Portugal, they organised a small-scale match-making webinar on 23rd June which aimed to bring together a selected number of European actors in circular manufacturing, both from European R&I initiatives and from H2020 projects in circular manufacturing, with Portuguese regions and their stakeholders.
The aim of the webinar was to explore initial collaboration potential, both at programming and at project level, between actors in Circular Manufacturing. More concretely, it focused on holistic circular approaches that go beyond waste management and valorisation and consider circularity from the design phase. The event mixed actors responsible for programming and development of support measures related to Circular Manufacturing, with project partners/coordinators responsible of specific H2020 projects focusing on holistic circular approaches targeting collaboration between programme and project actors.
When asked, which project topic triggered most interest, CloudiFacturing Project receveid the second most votes of all participants with 29 percent. CloudiFacturing now is happy to take up collaboration with interested stakeholders.
 Do you want to come in contact or need more information?