Last week, from the 8th to the 11th of October,  the European Week of Regions and Cities took place in Brussels and the CEO from Innomine (our DIH), Gabor Vicze was there to take part in the CEE DIH mentoring program. The whole day was dedicated to workshops regarding the DIHs activities.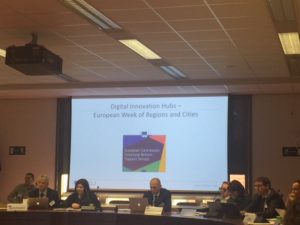 In this event, Gabor Vicze had a talk with Andrea Halmos who works as Policy Officer in the eGovernment & Trust Unit of DG CONNECT at the European Commission. She mentioned the 37 applicants in the CloudiFacturing Open Call and stated that "it is a success" for the project taken into account that the cross-border element was included, which was a real challenge.
The European Commission outlined multiple programs to strengthen the European DIH network and this model will be a key element to implement the Digitising European Industry strategy.
Under the headline of "For a strong EU Cohesion Policy beyond 2020", the 16th European Week of Regions and Cities is a key platform where to gather and present the views of European regions and cities on both the budget and the legislative proposals related to Cohesion Policy and rural development, as well as discuss the future of Europe in a regional and local perspective.