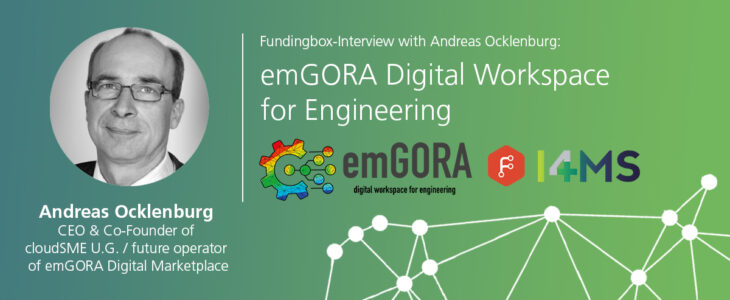 cloudSME is a core technology provider and dissemination partner within CloudiFacturing Project and will be the future operator of the CloudiFacturing Solution, the emGORA Digital Workspace for Engineering. cloudSME's Co-Founder and CEO sat down with Innovation Accelerator Fundingbox for an interview on the coming emGORA Workspace, which can expected to be published by end of September 2021.
Fundingbox: Tell us who are you and CloudiFacturing?
Andreas: My name is Andreas Ocklenburg, I am the CEO of cloudSME company, which is itself a spin-off of the European Innovation Project, cloudSME. Due to our unique role as a core technology provider in the CloudiFacturing project, cloudSME will become the future operator of the emGORA Digital Workspace which will host the emGORA Digital Marketplace for engineering apps as one of its main components.
Fundingbox: Why is it important/an added value to have Marketplaces in this sort of services?
Andreas: SMEs can do a great deal to optimize their business processes and accelerate innovation by harnessing the opportunities of simulation, Artificial Intelligence methods or Machine Learning, but they often have trouble accessing those kind of advanced engineering solutions, be it due to a lack of financial resources or technical know-how. The emGORA the Digital Marketplace for engineering apps, will represent a uniform, standardised way to provide low-threshold access to ICT solutions on-demand (SaaS), in a reliable and secure cloud/HPC environment.
emGORA mediates between solution providers and manufacturing companies, creating new value chains and reducing risks and the outlined entry barriers with regard to advanced technologies and it's community experts offer knowledge from different industrial areas as well as support. Therefore, emGORA will make an important contribution to the democratisation of such services by putting smaller companies one step ahead in the competition with their bigger competitors.
Fundingbox: What's the objective of the CloudiFacturing Marketplace? Who can use it?
Andreas: emGORA aims to lower the barrier regarding the uptake of new technologies and thereby not foster the economic competitiveness of SMEs, but also foster the European Digital Economy.
emGORA provides services and business opportunities to all off its stakeholders, not only those who would like to use cloud-based SaaS solutions, without the risk of high upfront investments, but also those who provide them, such as Independent Software Providers (ISV), Value Added Resellers (VAR) or consultants and Digital Innovation Hubs. Cloud- / HPC resource provider are invited to offer their computing capabilities on-demand via emGORA. Doing so, emGORA aims to contribute to market diversity, pushing new ideas and innovation and business opportunities in all areas.
Fundingbox: What are the benefits for SMEs using the emGORA Digital Marketplace? What services does it offer?
Andreas: emGORA creates a complete workspace for enterprises in which stakeholders can get to know, learn, develop and master new technologies in a supportive environment. It delivers access to executable software artefacts, 3rd party tools in the areas of Simulation, Machine Learning or Artificial Intelligence, which can be executed on distributed cloud/HPC resources in Europe. Software Services are provisioned with flexible payment models and can be executed on-demand.
For industrial software users, such as manufacturing companies, emGORA therefore eases the path of ICT solution adoption without (hidden) long-term bonding, but also provides a low-threshold distribution channel for ISVs or computing infrastructure providers, enabling them to quickly find new customers. emGORA will bring together service users, service providers and consultants, who can use the platform according to their wishes enabling them to explore new business opportunities.
Fundingbox: How can exactly emGORA support SMEs thanks to the Marketplace?
Andreas: emGORA aims to be a gatekeeper for new technologies by providing not only a space in which the services can be seamlessly offered and consumed, but also by creating a living community, which will provide business opportunities for all stakeholders. This community will be built on a large European Network bringing the right partners together and enabling new collaborations.
Fundingbox: What does a SME need to do to get onto the emGORA marketplace?
Andreas: First of all, companies have to create an account on emGORA.eu (available soon) and provide their service on the emGORA Digital Marketplace and / or get in contact with us with their request. We're an international consortium backed by well-known tech companies who will engage bringing your business forward.
Fundingbox: How do you foresee the emGORA Marketplace in the medium and long term? What do you expect for the platform?
Andreas: The emGORA Digital Workspace will expand its network of stakeholders, especially with regard to European Digital Innovation Hubs, enabling them to provide emGORA services to their network of manufacturing and engineering SMEs. Doing so, emGORA aims to become a major service to support DIHs in the collaboration towards digitalisation and Industry 4.0 across Europe.