Master your knowledge on how to apply to the Second CloudiFacturing Open Call! We invite you on June 24th. at 12PM (CEST) to our Second Open Call webinar hosted by Prof. Tamas Kiss and Prof. Dr.-Ing. André Stork.
Who can participate?
You don't know if your SME has all the requirements for applying? You are curious on what this H2020 project is about? You want to improve your manufacturing process and digitalise them, but don't know how? You need financial support to make it happen? Thus, join our webinar where the general process for the application to the Second Open Call will be explained in detail. All your questions will be answered by our experts!
We encourage SMEs which are new to the technology it is used in the experiments to subscribe and participate with their questions. SMEs and mid-caps from all manufacturing sectors are welcome. The success of the Experiments lies in a successful application and with the help of our experts you can achieve it.
Hereunder are two examples of our First Wave of Experiments so you have an idea what kind of enterprises are part of our project:
Experiment 5 – Optimizing Solar Panel Production
Experiment 7 – Simulation and improving food packaging with the objective of waste reduction
Subscribe for free, just click on this link and follow the instructions:
Prepare your questions and get ready!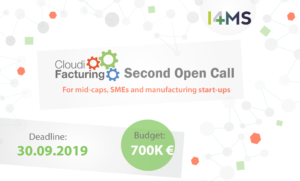 The Presenters
Dr. Tamas Kiss is a Reader in Distributed Computing and a principal researcher at the CPC in the University of Westminster. He holds a Ph.D. in Distributed Computing. His research interests include distributed and parallel computing, cloud, cluster and grid computing.
Prof. Dr.-Ing. André Stork is head of the 'Interactive Engineering Technologies' group of FRAUNHOFER IGD and professor at the Technische Universität Darmstadt. In the past 10 years, he has been involved in many European research projects.
About CloudiFacturing
CloudiFacturing – Cloudification of Production Engineering for Predictive Digital Manufacturing – is a European Innovation Action (IA) in the framework of Factories of the Future (FoF) with the mission of optimizing production processes and producibility. It is a part of the I4MS European initiative that supports the uptake of digital innovation by SMEs.