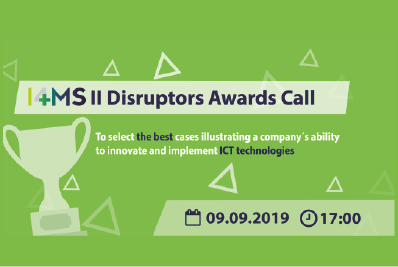 URGENT: Due to the large number of applicants submitting proposal in the I4MS #DistuptorsAwards2019, we postpone the deadline until Monday 16th of September 2019 at 17. CET.
I4MS launched 2nd Disruptors Awards Call
Next to the innovation and research actions of the European Commission, the I4MS project launched two Disruptors Awards Calls (2018 and 2019) and select the best cases or experiments illustrating a company's ability to innovate and implement ICT technologies.
The I4MS Disruptors Awards aim to award the most innovative experiments and best cases in additive manufacturing, CPS, IoT, robotics, HPC or laser technologies. I4MS launched the call for the second edition of Disruptors Awards.
2nd Disruptor Awards Prize Package
The winner of the 2nd Disruptors Award will receive a prize package consisting of:
→ A visibility package which includes the promotion of the experiments and the winning SMEs or midcap
→ Taylor-made offline and online visibility packages during the Mobile World Congress 2020.
→ Half-day of consultancy services offered by the Danish Technological Institute and the Manufacturing Academy of Denmark.
→ Benefit from the I4MS Acceleration services to speed-up business innovation and make business potential grow.
→ Participate in the Disruptors Awards Ceremony at the Stakeholders Forum in Madrid in November 2019. I4MS will carry with expenses regarding plane ticket and accommodation for one person to facilitate networking at the highest EU level.
About I4MS
ICT Innovation for Manufacturing SMEs (I4MS) is a program promoted by the European Commission to expand the digital innovation of manufacturing SMEs in Europe. As an SME or a mid-cap you can apply for technological and financial support to experiment with different technologies and services to improve the innovation skills of your staff and the technologies and services your company provides.
I4MS is one of the key initiatives of the European Commission to shape the pan-European network of Digital Innovation Hubs