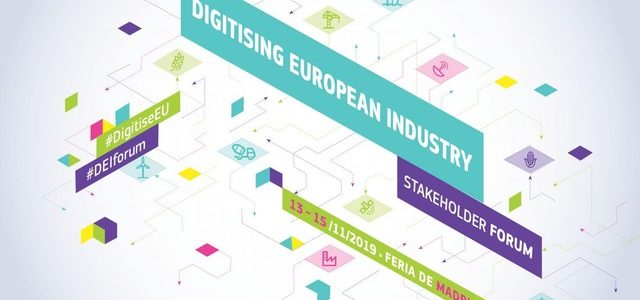 The third edition of the Digitising European Industry Stakeholder Forum will take place in Madrid from the 13th to the 15th of November 2019. This year's edition, organised by the European Commission and the Spanish Ministry of Industry, Trade and Tourism will focus on the thematic topic of "Artificial Intelligence and Digital Innovation Hubs – beyond 2020″.
The Stakeholder Forum is a public event organised on a yearly basis by the European Commission and one Member State within the context of the Digitising European Industry initiative (DEI). As Artificial Intelligence (AI) applications are quickly becoming a core element of many industrial environments, the upcoming Horizon Europe and Digital Europe programmes are shaped to strongly support investments for the development and widespread deployment of digital technologies.
Discussions will unfold around the ways in which digital transformation is shaping industry around Europe and how such transformation can be channeled towards a strong and innovative industrial ecosystem. Artificial Intelligence is already showing its potential to tackle long-term challenges and to provide cost effective solutions. European policies are prioritising such potential through the support of Digital Innovation Hubs, industrial partnerships and a variety of additional initiatives that include funding instruments and other opportunities. On the other hand, ethical implications and legislative initiatives are receiving a prominent position in policy projections beyond 2020.
Second Edition Disruptors Award
In this Forum, I4MS will have the Second Edition Disruptors Award and the winner was announced in Madrid on November 14th 2019 at the Digitizing European Industry Stakeholder Forum 2019,  during the session called "Digital Innovation Hubs – success stories" at noon.
Two SME's who where part of the CloudiFacturing first wave of experiments were participating in this event for the Disruptors Award: Nabladot and LCM & Hanning.
We want to congratulate Elaphe Propulsion Technologies Ltd. for winning the Award! Elaphe is a Slovenian company which uses innovative and disruptive technologies with the aim of increasing efficiency, promoting sustainable use of energy and minimizing energy-dependency on fossil fuels. They took part in the experiment called "HPC-Cloud-based simulation of coupled electromagnetic and structural-acoustics in in-wheel electric motors", which was supported by Fortissimo 2.
For more news, you can follow us in Twitter: @CloudiFacturing