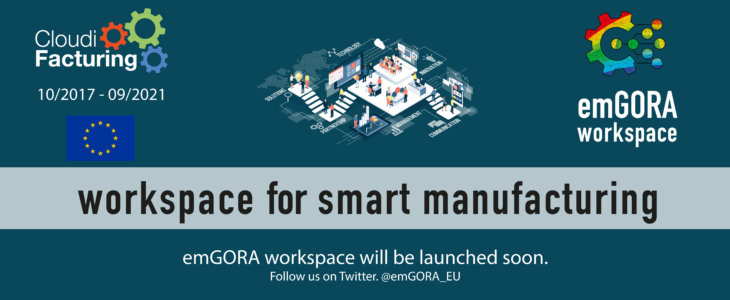 CloudiFacturing Project completed!
After more than three years, it is time to move on! - Transition of the CloudiFacturing solution into B2B ecosystem emGORA workspace
In October 2017 the Horizon 2020 Innovation Action "CloudiFacturing" was launched and 33 project partners from all over Europe came together at Fraunhofer IGD in Darmstadt, Germany.
Cloudification of Production Engineering for Predictive Digital Manufacturing
The project's mission was to optimize production processes and producibility using Cloud/HPC-based modelling and simulation, leveraging online factory data and advanced data analytics, thus contributing to the competitiveness and resource efficiency of manufacturing SMEs, ultimately fostering the vision of Factories 4.0 and the circular economy.
21 Experiments, more than 2.1 million Euro invested
At the end of the CloudiFacturing project, we count more than 60 new organisations that have joined our project via two Open Calls as experiment partners! With the support of our magnificent Digital Innovation Hubs and dedicated technical core partners, each of the Pan-European experiments was accompanied step by step as well as strengthened by our experienced partners.
Supporting the sustainability of the CloudiFacturing project through experimentation
The  experiments carried out enabled the realistic assessment of technical conditions and requirements, which was used as one of the bases for the development of the main technical components. The experiences and conclusions were reached through the great commitment of the experiment partners, users, technical partners, IT companies and institutions, as well as DIHs.
Achieving sustainable & forward-looking project outcomes
Tangible added value and benefit for the collective, a goal to which most projects, companies, and ventures should be geared. OK, some are more focused on creating added value for the collective and some are less focused or indeed not focused at all. Unfortunately. If more of us were committed to contributing to the added value of the collective, we would be better off together. But, we are on a good path in Europe, things are starting to change.
The CloudiFacturing Solution
The solution is an interplay of different technical components and services developed in the project lifetime, building upon already in the year 2017 existing technologies and achievements of the cloudSME project and CloudFlow project initiated under FP7.  The technical architecture of the CloudiFacturing Solution is a high-level composition aiming for the highest degree of security and data protection as well as the separation of sensitive user information.
Standardized secure provisioning of SaaS for manufacturing and engineering
Breaking it down, the CloudiFacturing Solution is a digital platform designed to support the uptake of innovative services, like the ones leveraged in the experiments, in a standardized way and from users' perspective without any high upfront investment at all. During the project different computing resource providers were connected, for example, the HPC interface by SINTEF and DFKI, but also CloudSigma, Azure, and AWS were accessible via the platform.
Modular deliver-as-a-service, a composition of many providers
The CloudiFacturing solution is kind of independent of individual cloud providers, data centers, and other parties since the resources of this digital platform are delivered by various providers. All communications of the platform and its underlying technology are strictly managed, encrypted, and secured by meticulously designed interconnections, in other words, it is clearly defined what component can interact with another one as well as what and how.
Transitioning the CloudiFacturing solution towards a B2B ecosystem for smart manufacturing
Coming from the space of theories, experiments, and innovation, one knows that there are conditions and approaches that can be only followed up on in an experimental setting. As soon as the setting is changed and technology, as well as experiments, shall be transitioned into real-life, new challenges arise and turn before proofed theories and strategies upside down.
With the lessons learned in mind, the project members started early to discuss potential strategies for how to sustainably commercialize the CloudiFacturing solution and its achievements. In the discussions, a clear focus was set on the community approach that was aimed to be delivered through the whole CloudiFacturing solution. During the project's lifetime, the CloudiFacturing project started step by step to pave the way for the spin-off B2B ecosystem emGORA workspace.
Providing services and high upfront investments do not have to go hand in hand
emGORA workspace is a B2B ecosystem including a smart manufacturing execution - and interactive collaboration platform driven by a community-based approach to democratise access to advanced ICT solutions and enable SMEs to build up economic strengths sustainably. emGORA workspace actively interweaves different supportive networks and initiatives of the European Commission to establish a sustainable workspace with economic opportunities.
A Community-driven approach in the context of B2B
What does this mean? Our community-driven approach is different from the ones established in social ecosystems, as we are moving out of the research and innovation project setting and in the sphere of B2B transactions, laws and legal obligations arise that have to be met by a single legal entity. This entity, the operator, takes emGORA workspace under its responsibility, and together with the core partners of the CloudiFacturing project and the advisory board (is in the process of being established), the B2B ecosystem will be developed towards an enriched supportive environment for smart manufacturing.
The yet not published emGORA workspace will be operated by the Cloud Architects of cloudSME. The emGORA workspace advisory board safeguards the interest and rights of the community, its members, and partners. It will be composed out of different experts of the CloudiFacturing project and meets on a regular basis with the operator to receive status reports on the development and performance as well as to discuss and advise on future strategies.
B2B ecosystem where anyone who wants to can offer their services
Really everyone? OK, not everyone can simply access the services and provide them! The protection of our members is paramount. Beforehand, anyone interested has to apply for an account on emGORA and deposit personal and company data. After the successful operator check of the company, the new member will be granted access to the chargeable services.
What kind of services can be offered?
Services to optimise processes and product development, data analysis, AI, simulations - any containerised software can be offered. In addition to the directly executable software, a learning and consulting environment in which supporting actions, training materials, and offers of support can be provisioned is also provided.
Software Services
Workstations set up with innovative software, ready to use. Execution of the software for members only.
Consulting Services
Ad-hoc Consulting and assessments. Offered by providers, DIHs, and consultants.
Matchmaking
Find the right match for your challenges! Pick one based on their presented solution approaches.
Training Courses
Online training courses and lectures, buy it once and access it any time! Submitted by emGORA workspace providers.
Insights & News
Share your expertise, benefit from the shared experiences of other members and discover use cases, guides, and more.
Panels
Know with whom you are discussing and what aspect you are addressing. Full transparency at our online discussion tables.
A mentioned before, emGORA workspace will be regulated by membership mechanisms and a code of conduct that must be respected and adhered to by each party operating. The operator monitors the ecosystem and intervenes with regulatory measures if necessary, such as blocking access to services or other functionalities. In the worst case, a company can be excluded from the ecosystem, but only with strong justification and after several warnings.
Project Phase - Alpha Phase - Beta Phase
emGORA workspace will be published soon and will be made available to the public step by step. In the alpha phase, only selected members and befriended parties are allowed on the ecosystem. In the follow-up phase, the beta phase, the first early bird seats will be approved to join the ecosystem and the commercial launch is planned to take place in the course of the first half of the year.
You are not part of the project circle? But you want to position your services on emGORA workspace?
Enter the draw and get a 50% discount on the first three months! Write a mail to onboarding@emgora.eu and attach a short summary of the solution you want to offer via emGORA workspace!
A Digital Brain for Industrial Products
Also, new research projects, like the DIGITbrain project, are building on the achievements of the CloudiFacturing project. The DIGITbrain project is aiming to extend the approach to delivering new services for Digital Twin technologies. Digital Twins are among the most important topics for enterprises now. Compared to this concept, the DIGITbrain concept will go one step further by developing the 'Digital Product Brain' which will store data throughout the entire life cycle of a production line or a machine. By collecting all this data, it will be possible to customise and set up industrial products (machines/production assets) for very specific manufacturing tasks whenever needed.
The wheels keep running! HPC interface, IoT, GAIA-X, FIWARE
We look forward to the future with excitement as we have some plans, such as GAIA-X compliance and FIWARE connectivity, to give a little taste of what's in store for emGORA workspace! But this story will be told in another place. Whether the project has really been successfully completed is not assessed by us from the project, but by the European Commission! All project members are excited and looking forward to starting the Review Meeting next Tuesday! We will get back to you after the review, but what we can say is: It has been an adventure!
Wave 1 - Experiment 1. - 7.
Wave 2 - Experiment 8. - 14.
Wave 3 - Experiment 15. - 21.